How to Care for your Cat's Health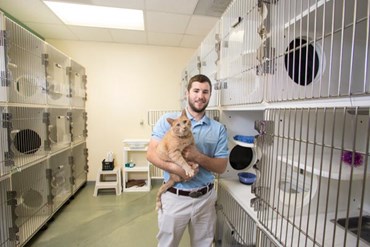 We value your cat's health as much as you do, and we're dedicated to providing informed, advanced and safe medical care for your pet. As a cat owner, you may have questions about how to safely and successfully support and maintain your pet's health and well being.
In our continued efforts to provide our clients with the most complete and up to date information and resources possible, we've featured a variety of topics that cat owners frequently ask us about:
Diet and Nutrition

We recommend Royal Canin nutrition for our feline patients, and believe that food is first step in preventing and treating a variety of common medical conditions. 
Creating a quiet, comfortable and enjoyable environment for your pet to eat meals is an important part of proper nutrition.
It is important to feed your pet an appropriate amount to maintain a healthy weight.
As your pet ages, their nutritional needs will change. Regularly consult with your veterinarian to receive appropriate recommendations.
Preventative Care

Protect your pet against common, avoidable diseases by taking proper steps in preventative healthcare. Reduce your pet's risk for harmful, painful and potentially fatal conditions that may be expensive and challenging for you and your family, and approach your pet's healthcare from a proactive perspective.

Schedule regular wellness examinations, including diagnostic tests, and maintain timely vaccinations and boosters.
Provide appropriate, doctor recommended parasite control medications/methods.
Grooming/Litter Box Care

While cats are generally good at grooming themselves, it is important to keep their nails trimmed appropriately, and watch their coat for any sudden changes.
Provide one litter box per cat in your household, and keep boxes scooped out at least once per day and in a clean, quiet environment that is easily accessed.
Activities 

Cats need stimulation from toys, scratching posts and most importantly, you. Spend quality time with your pet, while also providing them with an active comfortable lifestyle inside your home that keeps them engaged and relaxed.
Poisons/Things to Avoid

Ensure that your household plants are not poisonous, and remove any rodenticides, insecticides or household cleaning products from areas that your cat may easily access. 
Keep medications locked away, and toilet bowl seats closed.
Keep trash receptacles closed and out of reach, as well as alcoholic beverages, home fragrance products and any food that may be difficult for your cat to digest.
We want to help you stay well informed about preventive pet health care. Explore our pet health resources and advice below to learn more.