Eye & Ear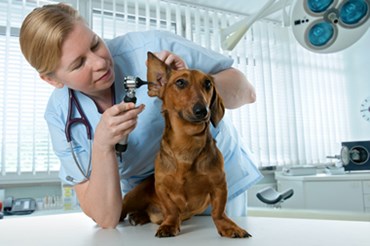 Just like humans, as pets change and age, so do their eyes and ears. At Hope Springs, our goal is to continually observe these changes as they come, and educate our patients' owners on how best to maintain and care for their pet's successful eye and ear health.
Should you have concern about your pet's eye or ear functioning, we are confident in our ability to effectively diagnose and treat a range of conditions through our state of the art technology and highly experienced, trained veterinary professionals. Often, eye and ear conditions may be associated with underlying conditions that require specialized knowledge and attention. Our doctors use the most current and advanced techniques in laboratory and diagnostic testing to help determine the root cause of your pet's discomfort, and quickly find a successful course of treatment.
We diagnose and treat a variety of common ocular diseases and conditions, including:
Corneal Ulcers
Eye Infection
Lacrimal Duct Blockage
Glaucoma
Tear Production Disorders (KCS, or dry eyes)
Cherry Eye/Third Eyelid Hypertrophy
Varying Eyelid Masses
We diagnose and treat a variety of common ear diseases and conditions, including:
Ear Infections
Ear Mites
Aural Hematoma
Cysts
Once your pet's condition has been diagnosed, we strive to find a treatment program that is safest and simplest for both you and your pet. We provide a variety of in house and at home treatment options that can accommodate the needs of your pet and family. While your pet receives treatment from our veterinary doctors, we have the capability to track their progress through digital images that we regular update in our patient records.
We remain connected to your pet's recovery and treatment process at all times. Our constant goal is to keep your pet seeing and hearing their best, so that they may enjoy the highest quality of life possible.
We want to help you stay well informed about preventive pet health care. Explore our pet health resources and advice below to learn more.