IV Fluid Support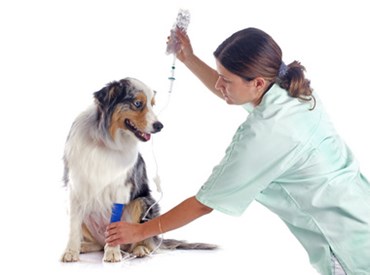 IV fluid support is strongly recommended in keeping your pet hydrated during surgery and into a safe and successful recovery while being hospitalized. IV fluids help to maintain and regulate blood pressure during surgical procedures, while also providing additional support to kidney and liver functioning. When our veterinary doctors perform a procedure with the use of anesthesia, IV support is the simplest and best form of support and added safety available.
Once your pet is out of surgery, IV fluids will help your pet's body to process any anesthesia administered, and help to speed the healing process. Should your pet require an IV catheter, it can act as a life port, providing your pet with access to quick and easy medication administration should an emergency arise. As part of your pet's recovery, fluid support during hospitalization helps to rehydrate your pet, while providing effective administration of nutrition and necessary medications.
If you're considering surgery for your pet, we strongly recommend your consider the use of IV fluid support to aid your pet in having the safest and most comfortable experience possible.
We want to help you stay well informed about preventive pet health care. Explore our pet health resources and advice below to learn more.