Cruciate Ligament Repair In Dogs And Cats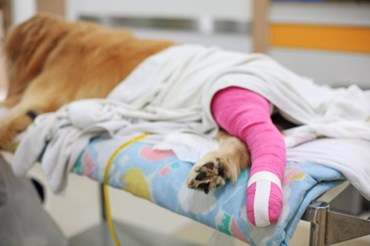 At Hope Springs, we offer a variety of options for cruciate ligament repair in dogs and cats. As your active pet ages, they may become more likely to incur injuries to their joints due to natural degeneration. If your pet has experienced a knee injury, it's important to seek out medical care that you trust to properly diagnose and treat your dog or cat. 
Through careful observation of your pet's gait, radiographic imaging and palpation of the affected joint or stifle, our experienced veterinary doctors are able to quickly and effectively identify a cruciate injury in your pet. Cruciate repair for dogs and cats can be performed in a variety of ways, dependent upon the pet's age, breed, weight, activity level, potential instability and degree of severity in injury. 
At Hope Springs, we currently perform two types of cruciate ligament repair in dogs and cats:
Extra-capsular Suture Stabilization (Lateral Fabellar Suture Stabilization): This traditional surgical approach is typically performed on smaller dogs and cats, and focuses on providing stabilization to the tibia and femur through the placement of a heavy nylon-like material. 
Tibial Tuberosity Advancement (TTA): This surgical approach is generally performed on larger breeds and more active pets, providing stabilization to the joint through the realignment of the patellar tendon.
Your pet's quality of life, comfort and activity level are vital to his or her happiness, and cat or canine knee surgery can help support your pet back into a renewed and active lifestyle. Once your pet has received the appropriate surgical treatment for their specific cruciate ligament injury, and is ready to return home, it will be important to restrict activity for your pet. Our veterinary team will work closely with you and your pet to slowly integrate activity back into his or her life with the help of specific exercises and potentially physical rehabilitation.
Ask us about our safe and successful cruciate ligament repair options for your dog or cat. We look forward to getting your pet back on their feet, and bringing a happy and healthy lifestyle back into their life.
We want to help you stay well informed about preventive pet health care. Explore our pet health resources and advice below to learn more.