Puppy And Kitten Care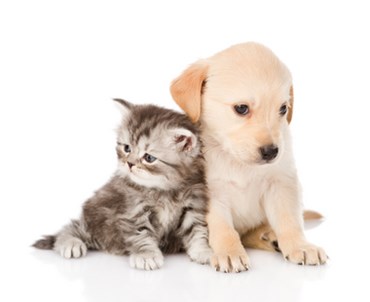 Congratulations on the new addition to your family! Bringing home your new puppy or kitten is an exciting and wonderful experience. Now that your new loved one is settling in, it's time to begin thinking about the best puppy and kitten care for your new loved one. Get your pet started on the right foot and schedule your pet's first visit with us, right away. 
During your puppy or kitten's first visit, our veterinary team will conduct a nose-to-tail physical examination, looking for any potential signs of illness, and evaluating your new pet's overall health. Our veterinary team will happily and readily answer any and all of your questions regarding your pet's training, nutrition, vaccinations, grooming, parasite protection and general health. We will provide specific puppy care tips, and kitten care tipsto help you and your pet to build a healthy, lasting relationship.
Wellness visits for puppies and kittens are perfect opportunities for us to discuss your pet's appropriate and recommended vaccination schedule, as well as an effective plan for parasite prevention, testing and treatment. Our highly trained doctors and staff are experienced in providing quality vaccine care and parasite control, and are focused on working with you to make choices that reflect your pet and family's best interests and needs. Together, we will review any past medical treatments or evaluations your pet may have had, and create a path for the future. 
Each pet is unique, and even experienced pet owners may find that their new pet will bring new lessons and experiences to their households. At Hope Springs, we are committed to supporting you in learning the nuances of your new puppy and kitten, and we welcome the opportunity to help you create a joyful, lasting life for your pet. 
We encourage and invite your involvement in your new puppy or kitten's health care. Call us today to schedule a wellness visit for your pet today. We can't wait to meet your new bundle of joy!
We want to help you stay well informed about preventive pet health care. Explore our pet health resources and advice below to learn more.