Leptospirosis In Animals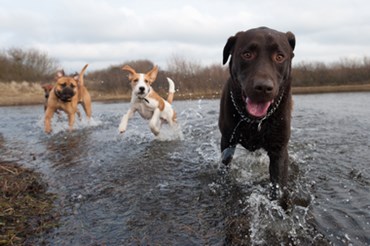 Leptospirosis in animals has become an increasing problem over the years due to the large number of carrier wildlife in our environment. Leptospirosis is transmitted through the urine of infected wildlife, such as squirrels and raccoons. Most commonly, carrier wildlife leave urine in an environment that is then sniffed or contacted by a pet or person. The disease may also be spread by way of dog bowls or dishes left outside. This bacterial infection can be transmitted from animals to humans, with children and younger animals being especially susceptible. 
Leptospirosis bacteria penetrate the skin of the animal it infects, making its way into the bloodstream and reproducing in the central nervous systems, kidneys, liver and eyes. Leptospirosis is particularly difficult to diagnose, as it may exhibit signs and symptoms similar to other common diseases. Prevention is your pet's best chance at avoiding transmission.
Leptospirosis symptoms in dogs and cats present with:
Stiff muscles, gait
Sudden fever
Shivering
Weakness
Depression
Dehydration due to lack of thirst
Loss of appetite
Diarrhea
Vomiting
Bloody vaginal discharge
Difficulty breathing
Runny nose
Cough
Swollen lymph nodes
Yellow skin and whites of eyes
The leptospirosis vaccine is one of our core vaccines. Our team of veterinarians recommend initially administering the leptospirosis vaccine for your pet in a series, dependent upon your pet's age, then at one year after the last vaccine in the puppy series. Afterward, this vaccine is boostered annually, in order to continually protect against 4 strains of leptospirosis bacteria.
We welcome any of your questions about leptospirosis and the leptospirosis vaccine for your pet. We look forward to talking to you about how we may protect your pet as soon as possible.
We want to help you stay well informed about preventive pet health care. Explore our pet health resources and advice below to learn more.