Laceration Repair In Dogs And Cats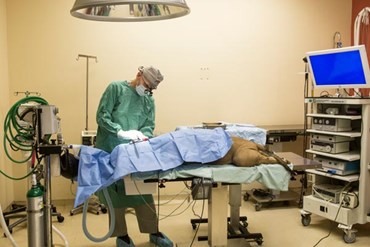 Our approach to laceration repair in dogs and cats focuses on patient comfort, safety and efficiency in treatment. If your pet has suffered a trauma, puncture wound or bite and is in need of laceration or abscess repair, our experienced and talented team will effectively evaluate and treat your pet to minimize additional risks and keep pain under control.
Laceration and abscess removal in dogs and cats may be performed under local or general anesthesia, or heavy sedation, depending upon the severity of the wound. Each pet and injury is unique, and may require different operative and pre-operative approaches to treat your pet successfully. Our team will clip and clean the affected area before treatment to determine your pet's treatment and recovery needs.
Once your pet has been effectively treated, he or she will return home with antibiotics and appropriate pain control. Our team will make sure to educate you on home care management techniques to ensure that you confidently bring your pet home for a safe and swift recovery.
Tips for Home Care Recovery
Complete medications as prescribed
Follow wound care instructions exactly
Limit exercise as suggested
Proper wear of Elizabethan collar as indicated
Schedule timely follow up visit with your veterinarian
If your pet has suffered an injury, or you want to know more about laceration repair and mass removal in dogs and cats, let our talented team of compassionate veterinary doctors and professionals provide you with peace of mind and a happy, healthy pet.
We want to help you stay well informed about preventive pet health care. Explore our pet health resources and advice below to learn more.