Cancer Treatment For Dogs And Cats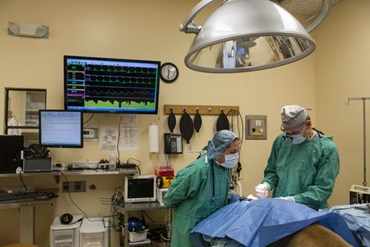 Continual advancements in veterinary oncology nationwide now allow for improved cancer treatment for dogs and cats. At Hope Springs, we strive to remain on the cutting edge of safe and effective health care developments in order to most accurately and safely diagnose and treat our patients. We utilize the most current diagnostic technology, including:
Radiography
Cytology
Biopsy
Various Blood Screenings
Our talented veterinary doctors are passionate about working with you and your family to create a comprehensive treatment plan that is tailored to your pet and family's specific and unique needs. Our goal is to support your pet in maintaining quality of life, while effectively managing and controlling any pain that be associated with their particular diagnosis.
Our veterinary doctors can provide your pet with a variety of treatment options including surgical removal, chemotherapy and oral medication plans. We continually communicate with and consult leading veterinary oncologists for additional support in our treatment process. Through our continued research and experience in evolving animal oncology treatment options, we continually aim to bring the safest and best cancer treatment to your pet and your family. 
We want to help you stay well informed about preventive pet health care. Explore our pet health resources and advice below to learn more.