Pet Orthopedic Surgery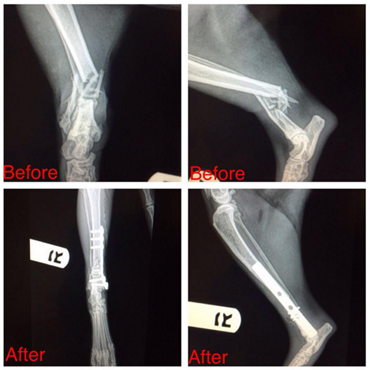 Our team approach to routine and emergency pet orthopedic surgery allows us to provide our patients with quality care that focuses on comfort and safety from start to finish. In treating your pet, we thoroughly investigate every treatment option available. We work closely with specialists and rehabilitation professionals from around the country who support our efforts to ensure that your pet's surgical repair is both safe and effective.
We think outside of the box to find solutions for your pet's successful recovery. We're confident in our team of experienced and compassionate doctors who provide unique, specialized care in feline and canine orthopedics. Our orthopedic veterinary surgeons are leaders in the field of veterinary orthopedics, utilizing advanced technology and approaching each patient from an individual perspective. Through our unique relationship with our talented physical rehabilitation team, our doctors are able to ensure swift recovery times, and overall positive outcomes for our patients. 
We are passionate about your pet's overall health and well being, and understand the value of your pet's happiness and quality of life. Ask us for more information about orthopedic surgery for dogs and cats, and let us support your pet's return to optimal shape and complete wellness.
We want to help you stay well informed about preventive pet health care. Explore our pet health resources and advice below to learn more.