Pet Boarding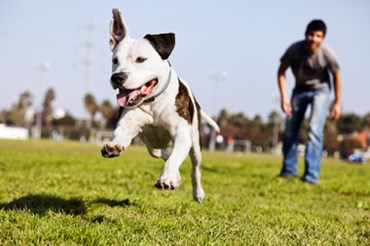 Whether you're traveling for business, or planning a vacation and can't take your pet along, we know your pet's boarding experience is important to you. At Hope Springs, we are passionate about providing a relaxing, comfortable and joyful home-away-from-home for your best friend. Our safe, clean and pleasant facility offers a convenient solution for all of your out of town needs, and we take pride in creating an environment that you can feel confident in while you're away.
Our heartfelt, trained professionals know the importance of creating an individualized experience for your pet boarding needs. Confident and comfortable working with special needs, diets, health issues, and in medication administration, quality care is always our commitment to both you and your pet. Our boarding kennels in Virginia Beach and Chesapeake, VA are conveniently housed within our state of the art medical facility, providing additional peace of mind for your family while you're away. Should we notice anything that may require medical attention, we will promptly work with our veterinary hospital team to provide immediate attention and care for your pet. Our facilities are maintained with the highest standards of cleanliness and care, and we embrace the opportunity to spend quality time with your loved one.
Your pet's stay at our playful and active boarding kennels are programmed for fun and recreation. While your pet vacations at one of our facilities, he or she will be walked three times a day (morning, afternoon and evening), with the option to add in additional walks as needed. We take pride in creating a warm, loving and engaged environment for the duration of your pet's stay.
Contact us today to talk about your dog boarding, cat boarding and exotic pet boarding care needs. We're honored to have the opportunity to care for your pet while you're away, and are eager to answer any and all of your questions about our facilities and your pet's stay. 
*We provide all linens and bowls for our guests, and allow admittance 30 minutes prior to or during regular office hours. Exotic guests should plan to bring housing, food and bedding.
We want to help you stay well informed about preventive pet health care. Explore our pet health resources and advice below to learn more.