Pet Grooming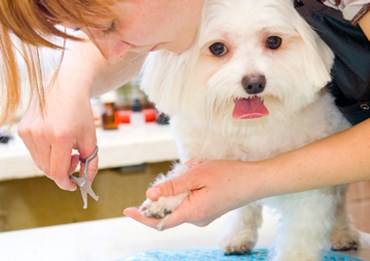 We know that your pet's grooming needs are important to you, and essential in maintaining your pet's overall health. Our grooming team at Hope Springs is trained in the highest quality pet grooming. 
Our convenient facility makes it easy on both you and your pet, providing a clean, comfortable and safe environment for your pet's bathing, nail trimming and hair cutting experience. 
Our friendly, trained grooming professionals are passionate about making each dog or cat feel and look their best, and understand that each pet is unique. Comfortable and confident working with special needs pets, skin problems and all of your special requests, our team of professionals take dog and cat grooming seriously. We are committed to providing a gentle, fun experience for your pet, while creating a look you'll love . 
Our grooming team offers a variety of quality services for your pet, including:
Shampoo
Haircut 
Pedicure
Skincare
Moisturizing Treatments
Show Quality Styling
Dremmel Nail Trimming
Cologne
Teeth Brushing
Nail Painting
Bath
Medicated Bath
Nail Trimming
Ear Cleansing
Ear Plucking
Anal Gland Expression
Whatever your pet grooming needs, we are confident in meeting them. Our grooming team is conveniently located within our state of the art medical facility, providing additional peace of mind for you and your pet. Should our team notice anything that may require medical attention during your pet's service, we will work with our veterinary hospital providers to ensure prompt attention and care for your pet.
Your pet's happiness and well being are important to us, which is why we encourage you to bring your new puppy or kitten in early, beginning a comfortable, easy relationship for life. We always put your pet's safety first, requiring all pets to be vaccinated prior to admittance, preventing your pet from any exposure to unvaccinated animals. 
Required Canine Vaccinations and Diagnostic Tests:
DA2PP (Canine Distemper)
Leptospirosis
Rabies
Bordetella
Canine Influenza
Fecal examination within the past 6 months
Required Feline Vaccinations and Diagnostic Tests:
FVRCP (Feline Distemper)
Rabies
Fecal examination within the past 6 months
If you're looking for quality, compassionate pet grooming services, please contact us and let us know how we can begin a relationship with your pet as soon as possible. All of our bathing and grooming services are offered by appointment only, Monday through Friday (ask us about Saturday services at our Great Bridge location only), and can be made by phone or via our pet portal. We can't wait to meet both you and your best friend!
We want to help you stay well informed about preventive pet health care. Explore our pet health resources and advice below to learn more.