Laboratory & Diagnostics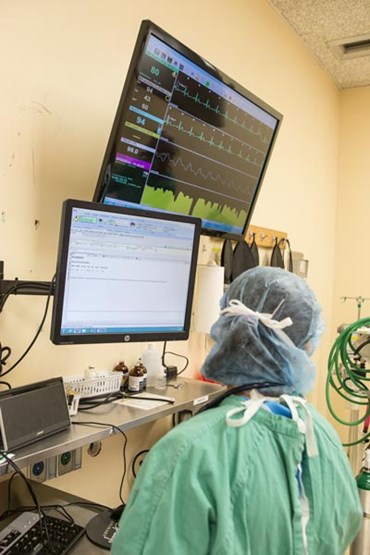 Monitoring your pet's systems through regular examinations and testing allows our doctors to stay connected to your specific pet's health needs, providing unique, specialized and quality care for your pet. In our efforts to best determine and assess your pet's health and medical treatment needs, we are pleased to offer quality laboratory and diagnostic services to our patients.
At Hope Springs, we offer the following in the way of laboratory and diagnostic testing for your pet:
Electrocardiogram (ECG). An ECG is an important part of your pet's preventative healthcare program, regularly screening your pet for heart disease. Heart disease can have subtle, unnoticeable symptoms that may be hard to detect with the eye. With early detection, treatment may be provided to your pet, extending your pet's comfort and life.
Preventative Wellness Bloodwork. Our doctors recommend this internal check to assess your pet's major organs, while ruling out unnoticed infections and determining blood clotting ability. Blood tests allow doctors to safely and effectively diagnose, monitor and treat a range of illnesses and diseases, with the goal of early detection for any potential findings. These tests include:



Complete Blood Count (CBC). The most common test performed on pets, a CBC provides information on hydration status, infection, anemia, blood clotting ability and immune system responsiveness. Essential for symptomatic pets with fever, diarrhea, vomiting, weakness, pale gums or appetite loss, a CBC can also detect abnormalities prior to surgical or other medical treatments.
Chemistry Tests. These common tests monitor organ function, hormone levels, electrolyte status and a variety of other internal functions. They are a vital part of treating older pets on longer term medications or prior to receiving anesthesia.
Thyroid Function Tests. Useful in determining malfunctions of the thyroid gland, thyroid function tests look for hypothyroidism and hyperthyroidism in both dogs and cats. 
Urinalysis. Recommended for all patients aged 6 years or older, a urinalysis evaluates the health and functionality of the urinary system, aiding in the early detection of kidney disease in older pets.
Blood Parasite Screen. The Blood Parasite Screen is an annual test that checks for Heartworms and three tick-borne diseases (Lyme Disease, Anaplasmosis and Ehrlichia).
Additional On-Site Testing for Feline Leukemia, FIV, Feline Heartworms, Canine and Feline Pancreatitis and Parvo Virus with results provided before the end of your pet's appointment.
We want to help you stay well informed about preventive pet health care. Explore our pet health resources and advice below to learn more.