Fracture Repair In Dogs And Cats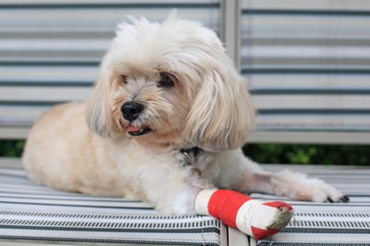 At Hope Springs, our talented veterinary doctors regularly and effectively perform surgical and non-surgical methods of fracture repair in dogs and cats. We carefully observe pets with potential fractures, utilizing advanced radiographic imaging to determine both the location and severity of the fracture. As always, our goal in both diagnosis and treatment is to create a safe, comfortable and successful plan for healthy repair.
Fractures may occur in your dog or cat for a variety of reasons, including trauma from a fall, being hit by a car or pathological injury resulting from cancer. Fractures may occur in various locations on a pet's body dependent upon the nature of the injury. Our experienced doctors will choose the safest and most effective route for broken bone repair in dogs and cats, usually dependent upon the location, severity, age and overall health of the injured pet.
Should your pet require surgical fracture repair, our veterinary team takes great care to provide appropriate anesthesia, fluids, antibiotic and pain control medications to prevent infection, unnecessary discomfort and other complications that may hinder a successful recovery. Your pet's safety and comfort are our priority, and we approach each unique treatment plan from an individual perspective, focusing on your pet's specific health history and lifestyle needs.
Once your pet's surgical repair is complete, our veterinary team will examine the repair through radiographic imaging both immediately after surgery and into the following weeks and months, as the fracture heals. At-home care will require restricted activity, as well as maintaining bandages, which will be securely placed every few days, post-operatively. Depending on your pet's specific treatment and recovery plan, our doctor's may advise working with our experienced physical rehabilitation team to ensure your pet's best outcome. 
As your pet continues forward into a safe and successful healing process, our team will be available to support you and your pet with any questions or concerns you may have. We are committed to your pet's full and complete recovery.
We want to help you stay well informed about preventive pet health care. Explore our pet health resources and advice below to learn more.