Full Pet Pharmacy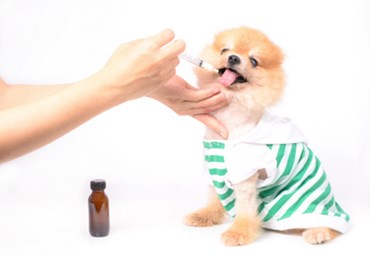 In addition to offering our patients quality veterinary care and services, our doctors and staff are committed to providing convenient pharmaceutical care at competitive, accessible prices. Our on-site pharmacy is fully stocked with a complete range of veterinary medications to treat animals in need, and we strive to meet your pet's pharmaceutical needs quickly and effectively. 
We proudly provide reliable and personal service that is focused on treating your specific pet, based on your their complete medical profile. At Hope Springs, we know that administering your pet's medications is important to their health and recovery. Our doctors are careful to anticipate any potential interactions or challenges to administration, and can help support you in treating your pet safely. We aim to fill your pet's preventative and illness-related prescriptions on time and in appropriate form.  To aid you in your administering process, we will compound your pet's medications into easily administered formats including chewables, liquid and injectables whenever necessary.
We provide preventative care pharmaceutical treatments including shampoos, vitamins and preventative heartworm and parasite treatments. Illness-related medications range from antibiotics to pain medication. Our veterinary team can also safely and effectively treat your pet's special dietary needs through the administration of prescription diet plans. These diet plans treat illnesses like cardiac disease, intestinal disease and kidney disease.
At Hope Springs, we're passionate about keeping you informed and educated on the pharmaceutical prescription process. Depending on the type of medication your pet has been prescribed, your refills may be authorized for short periods of time, or for extended periods, as long as your pet continues to be checked by our veterinarians annually. In treating your pet's condition, or prescribing preventative pharmaceutical medications, we make every effort to make both your life, and the life of your pet easier. When it is required that your pet see a doctor, we are confident that your pet can quickly be examined and treated, giving you peace of mind that your pet has received appropriate and successful care in a timely fashion.
Just as you would at your own pharmacy, we request that you call ahead when picking up or filling a prescription so that we may make every effort to fill your prescription right away. Not all prescription refills are the same, and we carefully and confidently administer and fill prescriptions for your pet that are safe and effective. Purchasing pharmaceuticals from our in house pharmacy guarantees that your pet will receive correct product, ensuring product efficacy and patient safety.
If your pet is in need of a refill, please proceed with one of the following actions:
Call our office with the following information:

Your name
Pet's name
Pet's current weight
Medication and quantity requested
Pick up date and time

Order your pet's prescription online via the Pet Portal at 
Contact us today and ask us about our convenient, affordable and friendly, full stocked pharmacy. We are pleased to offer you value, safety and peace of mind while meeting your pet's pharmaceutical needs.
We want to help you stay well informed about preventive pet health care. Explore our pet health resources and advice below to learn more.