Dog And Cat Dental Cleaning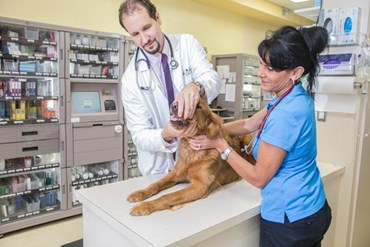 Your pet's dental care directly affects his or her overall health and happiness. Red, inflamed gums, bad breath and a mouth filled with plaque and tartar buildup aren't just inconveniences, they're real signs of an unhealthy mouth and dental disease. Prevent the spread of unnecessary, harmful bacteria, and give your pet the gift of a healthy and happy smile by regularly scheduling dog and cat dental cleaning services.
We take your pet's dental hygiene seriously, because we know the impact of poor dental health and dental disease. Both heart disease and kidney disease, as well as other serious health problems are associated with dental disease, and can be devastating illnesses to manage. We recommend that you bring your pet in for a visual dental care exam, so that our veterinary team may examine your pet's mouth, including their teeth and gums, and determine whether or not your pet has any specific dental care needs. We also offer a more detailed examination (requiring sedation), in-house dental cleaning and a variety of options to help you manage effective, at-home dental care.
Dog dental care and cat dental care can generally be managed at home, as long as your pet regularly receives dental checkups and teeth cleaning. Our team of dental experts is confident and comfortable in advising a wide range of dogs and cats. From pets with specific dental needs, to pets with currently healthy mouths, our focus is to create and sustain your pet's dental hygiene and healthy smile for life.
Give your pet the gift of a lasting, healthy and happy life, and bring them in for a dental examination today. 
Our dental services include:
Oral/Dental Examinations
Digital Dental Radiographs
Ultrasonic Scaling
Polishing
Pocket Depth Assessment
Fluoride Treatment
Oravet Application
Extractions
Doxirobe Application
We also support pets and owners in maintaining the following dental care services at home:
Royal Canin Dental Diet
Brushing your pet's teeth
CET Aquadent
Oral Hygiene Rinse
Enzymatic Dental Chews/Dental Chews
Oravet
We look forward to helping you maintain a solid commitment to your pet's dental health and care. Contact us today to talk about how we can brighten up your pet's smile today!
We want to help you stay well informed about preventive pet health care. Explore our pet health resources and advice below to learn more.