Rebranding to Hope Springs Veterinary!
September 29, 2015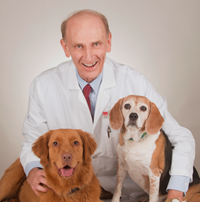 It has been a long time coming!  For years we talked about bringing our hospitals under one brand image, and we are excited to finally be able to! 
Great Bridge Veterinary Hospital, Pembroke Veterinary Clinic, and Sajo Farm Veterinary Hospital have always been locally owned and managed as one group.  The problem was with different logos and names many of our clients had no idea they could expect the same great service and care at any location.  With words like social media, and Google dominating everyday language we knew it was time to make the leap.
We are very excited to share our new brand, Hope Springs Veterinary.  We have often joked with clients during this process, "Don't worry, everything is staying the same! Just getting a new name!"  Well that is not entirely true. 
We have seized this opportunity to really reflect on why we do what we do, a fresh prospective so to speak.  Why is veterinary care important to us?  How do we want our clients to feel when they are here?  What can we do to be better? In doing so we came to one simple realization, we found our why, we are passionate about the health and happiness of your pet!  
We look forward to many more years of providing exceptional veterinary medicine!
Sincerely,
Dr. Richard Dailey

Share:
---
Owner and president of Hope Springs Veterinary.

comments powered by

Disqus